Melbourne will welcome the world's most sustainable hotel brand, 1 Hotel, in 2022 as it makes its Australian debut as part of developer Riverlee's Northbank project beside the Yarra River.
The 280-room upmarket hotel will form the centrepiece of
Riverlee's approved $450 million Seafarers mixed-use development
of the Northbank wharf site, which includes a 3,500sq m public park, 140 apartments above the hotel and the restoration and repurposing of the historic No.5 Goods Shed into a 1000-seat premium waterfront event space.
Image: The existing cargo shed on the heritage listed Berth No. 5.
Riverlee Group acquired the 13,200sqm Northbank site, located between Spencer Street and Charles Grimes Bridge, four years ago from the state government for $28.5 million.
The site, designed by Fender Katsalidis with heritage consultants Lovell Chen, will form a new link between the Docklands regeneration on one side of Wurundjeri Way and on the other, the last wedge of commercial space along the Yarra River.
Riverlee has selected 1 Hotel, an affiliate of hotel and private investment firm Starwood Capital Group, a brand fast becoming known for its high-end amenities as well as environmental and community focus.
Riverlee development director David Lee said 1 Hotels was a clear choice for the Seafarers precinct, with both companies sharing similar values in regards to sustainability, urban renewal and design.
"We're thrilled to be bringing Australia's first 1 Hotel to the banks of the Yarra River and will work closely with SH Hotels & Resorts to merge their hotel ethos and design throughout the project and public spaces, in order to create an authentic and cohesive precinct," Lee said.
"It's the hotel's commitment to celebrating the history of the site, once the site of Melbourne's busiest port, that will contribute to delivering a truly bespoke hotel experience."
Image: 1 Hotel Central Park, New York
The 1 Hotel Story
1 Hotel was created by renowned American hotelier Barry Sternlicht, the founder of Starwood Hotels (now part of Marriott International) and US$60 billion real estate fund manager Starwood Capital from a simple belief that those who travel the world care about it.
The concept based around sustainability, the environment and wellness, kicked off in 2015 with the opening of the first 1 Hotels in Miami, followed by hotels in New York, Brooklyn and Los Angeles.
Image: 1 Hotel Brooklyn Bridge, Brooklyn
The hotels incorporate significant amounts of reclaimed and recycled materials as well as plenty of plants and other natural elements.
The ethos is showcased at 1 Hotel Central Park, home to some 24,000 plants, steel entrance doors embedded with 16,000 fallen twigs with the floor of the fitness centre made from a reclaimed university basketball court.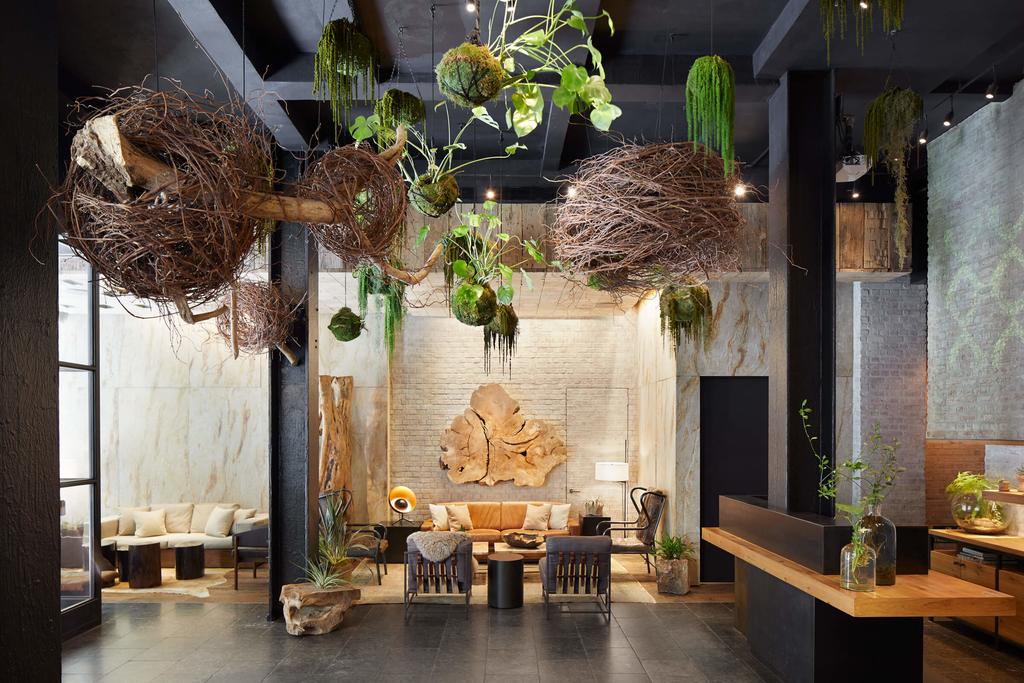 Image: 1 Hotel Central Park, New York
1 Hotel Melbourne will also incorporate reclaimed and recycled local materials in its design. It's part of a growing international pipeline that includes 1 Hotels under development in China, Paris, London and Mexico.
The hotel will be operated by Starwood Capital affiliate SH Hotels & Resorts under a long-term management agreement with Riverlee. Development director David Lee, the son of Riverlee founder Clement Lee, said the family intended to retain the hotel as a generational asset.
Construction of the Northbank wharf site is set to start in early 2020.